Great Atmosphere!
Attention to detail is an important part of what we do.  Everything from the hay and grain we feed our horses, to the footing in the arena is of the very best quality making us a premier Hunter/Jumper facility located on a spacious amount of land in Marengo.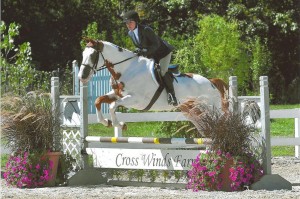 Our Hunter/Jumper facilities includes an 80′ x 200′ indoor arena, two 100′ x 200′ outdoor arenas, and a third 300′ x 250′ outdoor arena.  Our 50 stalls are a generous 10′ x 12′.  We have two tack rooms and an enclosed viewing area for the indoor arena.  There are five very large paddocks, 1 large three acre pasture, and a round pen for turn-out.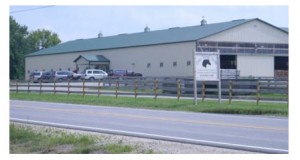 Cross Winds also has a wonderful Show Team competing in both the Northern Illinois Hunter Jumper Association (NIHJA) circuit and the PTS ("A Place to Start") circuit.  Trainers consistently bring out the best in our students and their horses, focusing on individually.  These riders are truly amazing!
And what about our 3 beautiful outdoor arenas!
Cross Winds Farm hosts several shows each season.  Come and take a look!