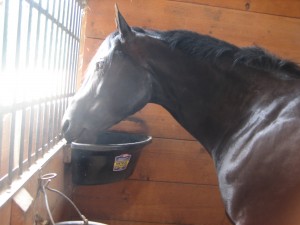 Check out our impressive facility! From the barn to the spacious turnout to our magnificent arenas, there is much to love about our 30 acre facility.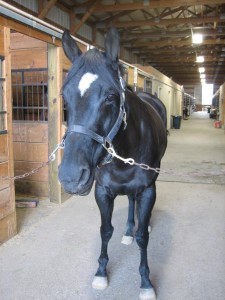 Our barn has spacious 10′ by 12′ stalls with corner feed tubs and an individual watering system. Each stall has it's very own water valve to easily fill water buckets. Stalls have rubber mats and are bedded with wood shavings. Stalls are available with windows and bars that allow maximum airflow and easy visibility throughout the barn.
Our aisles are concrete for easy clean up as well as spacious and well lit.
Our indoor arena is
80′ by 200′ allowing us to set challenging courses with ample space. Our arena features 3 large doors that allow maximum air flow through the arena year round.
Cross Winds provides 3 large fenced in outdoor arenas. We have two  100′ by 200′ arenas, and a large grand prix arena that measures 300′ by 250′. All arenas have all weathered limestone based footing mixed with just the right amount of sand. Our arenas are watered and dragged several times a week to maintain the highest quality footing possible.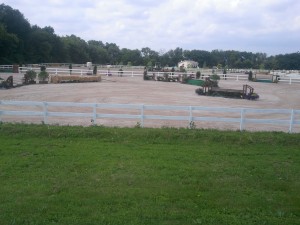 We have a grass fields and small trails on site for those who enjoy working their horses outside of the fenced in arena whenever possible. Our grass fields are occasionally used during lessons to provide riders with a different training experience outside of the traditional arena.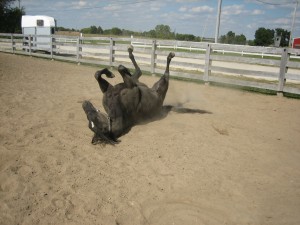 Our turnout situation allows for horses to remain outside for a half day turnout situation. We have 6 large paddocks and a round pen area used for individual turnout.
Cross Winds maintains an indoor wash rack and 2 outdoor wash racks with rubber mats and cross ties. We provide a heated viewing room and 2 large tack rooms.
The facility is also fortunate to have the owner living on the property.